Euler Feinmechanik Gmbh - Highly productive trio
10 January 2022
CNC automation makes for movement in machining
All good things come in threes. At least that is true for Euler Feinmechanik. Within a very short amount of time, the manufacturer of complex turned and milled parts invested in three loading robots from HALTER CNC Automation to automate its CNC lathes.
Euler Feinmechanik GmbH, based in Schöffengrund in Hesse (Lahn-Dill district), sees itself as a specialised quality partner in the field of machining. With around 65 employees, the company produces complex turned and milled parts, e.g. optic-bearing mounts, external components for film and camera lenses, housings and stators for turbo vacuum pumps, trays for medical technology and riflescopes for hunting and the military. "Our production proces includes CNC milling and, for the most part, CNC turning of prototypes, pre-series and series parts. We develop product-specific manufacturing strategies for our customers and support them from the development and production stages through to surface finishing and the assembly of subassemblies," explains Leonard Euler, Managing Director of Euler Feinmechanik GmbH with his father Hans Euler. With the entry of the industrial engineer into the company in 2011, the topics of automation and robotics in particular were pushed forward.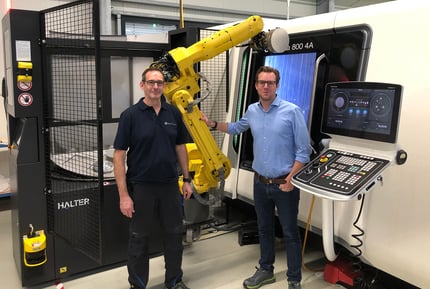 Production capacity successively expanded
In 2016, the company invested in a DMG Mori CTX beta 800 CNC universal lathe with two turrets and a counter spindle, on which more complex components for the vacuum industry were to be produced. "We intended to automate the system, but first we had to overcome a number of challenges in advance in order to be able to manufacture the products in question using a reliable process that ensured high quality", reports Marco Kühnl, senior set-up technician and team leader of the turning machine group.
In 2017, the decision was made in favour of a loading robot, especially as the order volume for the products to be manufactured was increasing.
"In addition to an increase in productivity, we wanted to get our personnel costs more under control. Against this background, we looked at solutions from various manufacturers. In the end, we chose the HALTER LoadAssistant for several reasons, including because it has a robot from Fanuc, grippers from Schunk, a safety system from Sick and, last but not least, because the solid robot cell is manufactured in Germany by HALTER CNC Automation," says Euler. "It is important for us that the manufacturer HALTER CNC Automation advises us regularly and can support us with a broad product portfolio and options for further automation expansion".
Versatile solution increases productivity
The HALTER Universal Premium 20 is a compact, versatile robotic cell for CNC lathes and CNC milling machines, which has been developed for the automated loading and unloading of rotationally symmetrical workpieces with a maximum diameter of 270 mm as well as for workpieces with dimensions of 180 x 180 mm. For this purpose, a wide range of grid plates are available as workpiece buffers with different capacities for rectangular components and long shafts. While the robot loads a machine or removes finished parts on the front side, an employee on the back side can load the system with new blanks so that the running production is not interrupted. The robotic cell can be installed quickly and can also be repositioned from one machine to another as a mobile solution.
In order to couple the loading robot with the DMG Mori CTX beta 800, the machine first had to be equipped with a corresponding automation interface. The CNC lathe is primarily used to machine components with a diameter of 130mm to 150mm. The second turret and the counter spindle make it possible to always produce two parts in parallel. According to Marco Kühnl, the combination of CNC loading robot and lathe increased the output of finished parts by around 25 percent.
More flexible production with reduced personnel costs
About a year later, Euler Feinmechanik purchased two more universal lathes from DMG Mori, again a CTX beta 800 with two turrets and a counter spindle, as well as a smaller CLX 350 system. Both machines were to be automated right from the start. And again, they chose two Universal Premium 20 loading robots from HALTER CNC Automation. Euler Feinmechanik now produces around 15 different products on the two large CNC lathes with the loading robots, either with parallel single-sided machining of two components or with complete two-sided machining of one component. "We are now in a position to distribute the orders very flexibly between the two machines as required or, to a certain extent, to switch between the two systems. In addition, we can produce unmanned for half a shift on average, which further increases productivity and reduces personnel costs," explains team leader Kühnl. On the DMG Mori CLX 350, on the other hand, around 40 different products for the optical industry are produced with the help of the third loading robot. The machine with automation is also used to train junior setters.
The automation trio boasts a variety of advantages
In Leonard Euler's view, the investments in the three loading robots have paid off in many respects. "Automation has increased machine availability, which reduces the hourly rate while increasing output. Ultimately, this leads to lower production costs per piece and, moreover, to a much better delivery reliability, which in turn strengthens our competitiveness, because our customers see that we are open to new technologies, including in the field of automation."
In addition, the company is now in a position to counter the continuing trend towards increasing cost pressure in a much more targeted and proactive manner. Leonard Euler: "If it becomes clear that the manual production of a specific product will at some point no longer be profitable, we can already take the right path today and thus take action early. All in all, the many benefits are the result of a better and more efficient organisation and planning of production, without unscheduled machine downtime. Today, we can avoid these 100 percent if an employee has to leave the workplace for a short time or takes a break. If an employee is absent due to illness or holiday, we can also compensate for this to a large extent thanks to automation.
Last but not least, Leonard Euler is convinced that automation will create more attractive jobs. "Younger employees in particular are showing great interest and commitment to this topic."