Heinz Knöpfle GmbH - Spindle hours tripled
17 June 2021
Sustainable success through consistent automation
If there is one medium-sized company that has recognised the potential of automation and knows how to exploit it, it is Heinz Knöpfle GmbH in Schwabmünden, about 30 kilometres southwest of Augsburg. In the last two years, the company has invested in five robot cells from Halter CNC Automation alone.
As a contract manufacturer, Heinz Knöpfle specialises in turning, turning-milling and milling. Among other things, the company produces precise and sophisticated turned parts, from individual parts to small and large series, for a wide range of industries, including mechanical engineering, medical technology, drive technology, plastics technology, aviation and the food industry, to offer just a small selection
Almost all machines automated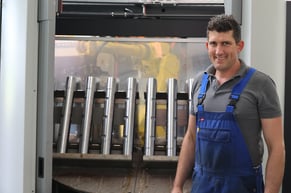 About 16 years ago, the company acquired its first machine from Mazak, which was automated a year later with a bar feeder. Managing director Christian Knöpfle, who with his siblings Suzanne and Andreas took over the company in the second generation in 2009, has remained loyal to the machine manufacturer to this day, and to automation as well.
Measured by the number of employees, 5, the company has a considerable machine park, because on a production area of about 1500 square metres there are a total of 22 Mazak machines - all automated, e.g. with pallet and shuttle systems or bar loaders.
The company's entry into robot-assisted automation began in 2018, when Christian Knöpfle became aware of Halter CNC Automation through a Mazak sales manager. A short time later, the first turning/milling centre, a Mazak Integrex i-200ST, was coupled with a Halter Universal Premium.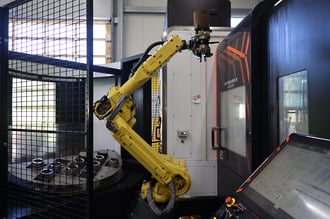 Compact, highly versatile robotic cell
Halter CNC Automation's solutions are compact, highly versatile robot cells in a wide variety of designs for CNC lathes and CNC milling machines, developed for the automated loading and unloading of rotationally symmetrical and rectangular workpieces as well as long shafts. For this purpose, a wide variety of workpiece holders are available, including, for example, so-called grid plates as part buffers with different capacities in the HALTER Universal Premium.
While the robot on the front loads a CNC turning/milling centre or removes finished parts, an employee on the back can load the system with new blanks, without having to interrupt the ongoing production. The robot cell is quickly installed and, as a mobile solution, can also be repositioned from one machine to another if necessary.
Four new robot systems in a very short time
The benefits of the first robotic cell were obviously convincing, because in the last two years alone the company has invested in four further automation solutions from Halter CNC Automation: two additional Halter Universal Premium for a CNC turning/milling centre and a 3-axis machining centre, a Halter Big for a Mazak i-200S CNC turning/milling centre and a Halter Turnstacker Compact 12 for a Mazak Quickturn Nexus 250-II MSY.
The Halter Big is a loading system specially designed for heavy workpieces and thus long shafts up to 800mm. The equally compact and robust solution integrates a robot with a load capacity of up to 70 kg.
The Halter Turnstacker Compact, on the other hand, has a total of 12 stacking stations for a high workpiece and finished part buffer with a maximum capacity of up to 385 parts.
Even more focus on safe processes
According to Christian Knöpfle, end-to-end automation has forced him to think even more carefully about the processes involved. Among other things, attention must be paid to the temperatures in the machine in terms of consistently high precision during workpiece machining, tool wear and availability, an adequate coolant supply and, last but not least, highly efficient chip removal, to name just a few factors for high process reliability.
If these and many other requirements and challenges are reliably managed, this ultimately leads to a consistently high and thus stable production quality with a noticeable increase in productivity due to a significant increase in unmanned production times, which in turn creates potential for new production capacities.
Turnover doubled within two years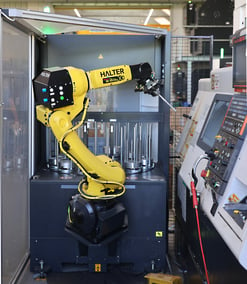 Heinz Knöpfle GmbH seems to have succeeded in this very well, because production takes place around the clock in three shifts with manned day shifts and unmanned late and night shifts. The machines also run at weekends, largely unmanned - with correspondingly impressive results.
For example, the spindle times of some machines coupled with robot cells could be increased threefold. And with an automated machine, up to 6,000 spindle hours per year.
Similarly, the company's turnover has doubled within just two years thanks to both consistent and far-sighted automation.
Despite all the economic success, Christian Knöpfle also focuses on sustainability. After all, anyone who takes a close look at the automation processes and their peripherals often discovers further potential for optimisation. For example, the heat from the extraction system is recovered to heat the production halls in the cold months. A clocked chip conveyor, in turn, makes it possible to collect the used coolants, treat them and return them to the production processes. This saves valuable resources and, of course, costs.
Significant increase in orders also due to new customers
With a targeted automation strategy, Heinz Knöpfle GmbH was able to reposition itself as a contract manufacturer and, not least, to increase and consolidate its competitiveness. Thanks to automation, the entire manufacturing organisation, first and foremost production, can be better planned, which is reflected in a significantly higher delivery reliability and a consistently high manufacturing quality with attractive prices.
The high proportion of unmanned production hours increases productivity and ultimately also production capacity. As a result, the company has not only been able to fulfil even more orders from existing customers in recent years, but has also won a number of new customers.
Those who are successful can plan for the future. In May 2021, another Mazak (HCN8800) was installed. And this machine, too, is of course connected to a pallet system and thus automated.