The German company Euler Feinmechanik is a respected manufacturer of complex turned and milled parts. "We develop production strategies for our customers - for example for Airbus, Leica and Zeiss - and support them from the development and production phase to surface treatment and pre-assembly," explains Leonard Euler. Together with his father, Hans Euler, he runs this successful family business. When the industrial engineer joined the company in 2011, Industry 4.0 suddenly went from being a distant dot on the horizon to an important pillar. Thus, much more has been invested in automation and robotics in recent years.
"Automation and robotisation are important aspects of the continuous improvement processes. We are constantly thinking here about whether we can optimise the individual processes so that they connect even more smoothly. In this respect, we are active on all fronts, i.e. from the back office to production. That's why we consistently invest in our employees, as well as in modern production machines and processes."
A new CNC machine is expensive, so you should make sure you really get the most out of it
Euler is a quality machining partner with more than 60 years of experience and around 75 employees. The majority of these are production specialists who deal with CNC milling and, to a large extent, CNC turning of prototypes and pre-series and series parts. "We manufacture many different products, from optical mounts and components for film and photo camera lenses to housings and stators for turbo vacuum pumps and shells for medical technology. Everything we make here has to meet our customers' high quality requirements one hundred per cent. So you need expertise and good tools for that."
In 2016, Euler acquired a new DMG MORI CTX beta 800 4A, a CNC turning centre for the production of more complex components for the vacuum industry. "We already knew then that we wanted to automate the machine, but we still had to face some challenges in order to be able to produce workpieces according to a reliable process that ensures high quality." Marco Kühnl reports. He is a senior setup technician and team leader of the lathe group. Together with his team, he has ensured that the new DMG MORI delivers the desired high product quality that Euler's customers expect. "In view of the increasing order volume for the workpieces to be manufactured, we purchased our first loading robot in 2017. This has allowed us to increase DMG MORI's productivity while getting labour costs more under control.
Several brands were tested, but a Halter was chosen after all
Since it was the very first loading robot for Euler, they examined the solutions of various manufacturers in advance - without wanting to commit too early. "We wanted to make a future-proof choice," explains Leonard Euler. "DMG MORI itself was also in the running, as they had just introduced their own robot - the Robo2Go. This seemed to us to be the most logical combination and it is indeed a nice product at first glance, but unlike Halter, it quickly reaches its limits. Halter is a real specialist in this field and not only had a good rationale ready, but also great references and a working demo that showed exactly what we wanted. In the end, we decided on the HALTER Universal Premium 20. There were various reasons for this, but it was also due to the fact that it consists of the very best components: a Fanuc robot, Schunk grippers, and a laser system from Sick. In addition, the robot cell is manufactured by HALTER CNC Automation in Germany, where the operating software is also developed."
Maximum flexibility and operational capability
"Because Halter uses its own independent operating system, programming and loading the loading system while the robot is running is no problem at all. While the robot is loading the machine at the front, our employees can insert new workpieces into the system at the rear. This way we shorten the changeover time and avoid unplanned machine downtime."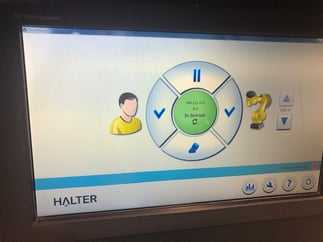 The Robo2Go is only compatible with the very latest DMG MORI models, which have the latest generation Celos operating software. "This was not a problem for us at all, because we had bought a new model after all. However, DMG MORI's Robo2Go can only be programmed when the machine is at a standstill, which equates to a costly loss of time. In addition, the Halder robot cell can be installed within a very short time and can also be moved from one CNC machine to another as a mobile solution. This gives us as a manufacturer a great deal of freedom in terms of deployment."
Versatile solution increases productivity and is suitable for a wide range of applications
The HALTER Universal Premium 20 is a compact, versatile robot cell for CNC machines. The loading robot is designed for automatic loading and unloading of workpieces with a maximum diameter of 270 mm and dimensions of 180 x 180 mm. For this purpose, a large selection of grid plates for the workpiece buffer is available with different capacities for rectangular as well as round workpieces and long axes.
In order to be able to connect the loading robot to the DMG MORI CTX beta 800 4A, Halter has equipped the machine tool with the necessary automation interface. "This is also a big advantage of Halter compared to the competition, because Halter can enable coupling with CNC machines of all brands, regardless of the type and year of manufacture."
The CNC lathe, which was purchased in 2016, is primarily used to machine components with a diameter of 130 to 150 mm. "Thanks to the second tool changer and the counter spindle, two workpieces can be produced in parallel at the same time. The combination of DMG MORI and Halter has increased the production of finished parts by about 25%. This corresponds to the return on investment pre-calculated by Halter." Marco Kühnl reports.
More flexible production with lower personnel costs
About a year after the initial purchase, Euler Feinmechanik bought two more universal lathes from DMG MORI - again a CTX beta 800 4A and a smaller CLX 350. These two machines were immediately equipped with Halter loading robots identical to the model already supplied.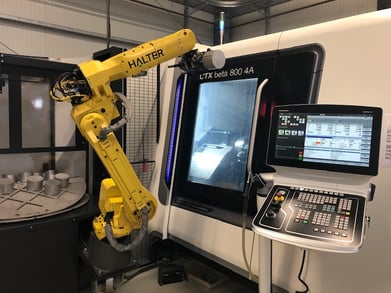 Euler Feinmechanik now produces more than 15 different workpieces on the two large CNC lathes with the Halter systems. "We do this either by parallel single-sided machining of two components or by complete double-sided machining of a single component. As a result, we can now flexibly divide the orders between the two machines as required or, to a certain extent, also switch back and forth between the two systems. In addition, we can run production unmanned for an average of half a shift, which further increases productivity and further reduces personnel costs," explains Kühnl.
About 40 different workpieces for the optical industry are produced on the DMG MORI CLX 350 with the help of the third HALTER Universal Premium 20. The automated machine is in full use in production and is also used to train the junior operators.
Automation has improved our efficiency
Leonard Euler looks back on the past with satisfaction and has full confidence in the future. "Automation has improved the utilisation of our CNC machines. This has reduced hourly rates and increased output and quality. The lower unit costs and even better delivery reliability have strengthened our competitive position. We didn't decide to purchase the first new DMG MORI and the corresponding Halter model in one night - but since then things have been going great with this proven combination. We can now plan production better, are no longer so dependent on employees and can therefore handle holiday periods and absences due to illness more easily.
Automation has improved our efficiency, so we will continue to automate. We will now also purchase a Halter loading robot for an existing DMG MORI, because if we like it, we will stay with the brand. Halter is not only a reliable supplier, but also a good sparring partner. They can add further functionalities to our existing robot cells based on our wishes, for example for polishing and grinding the workpieces. Halter is an automation partner that has a vision and is fully focused on the customer."