Automating Your Shop After Hours: Lights-Out CNC Machining | Halter CNC Automation
10 November 2020
CNC machining requires efficiency with the use of intricate components and parts over long hours. However, most shops deal with manufacturing for a fixed number of hours in a day because of workforce limitations. With CNC machine automation, these impediments no longer become a part of the equation.
It Can Be Automated
Challenges often come in production when expansion becomes a necessity to keep up with the demand. In these scenarios, finding the right people that fit the work can eliminate long delays, but incur high costs.
With an automated system, production can increase significantly by taking advantage of hours after dark. Systems can run unattended going through cycles and handling the bulk of the work to keep up with needed production targets. Automation can help work on repetitive and predictable tasks.
Robots have helped plastic and metal companies around the world keep up with great demands. More manufacturing companies have started to shift to automated systems as the need for workforce increases. Some of the machines that can be automated include:
Plasma cutters

3D printers

Wire-bending machines

Cylindrical grinders

Turret punchers

Electrical discharge machines (EDM)
The Benefits of Lights-Out CNC Machining
Proper work distribution

: with machines operating without regular attention, human operators can now be tasked to deal with other things. They can handle more critical aspects of work during regular hours while the larger part of the load is taken care of.

Increased production

: with machines capable of working beyond regular hours within a day, they can produce more. Machines can even function for 24 hours if needed.

Lesser costs

: an automated system can significantly decrease the costs of labor. It allows companies to prioritize hiring the best operators to handle more complex tasks.

Handle deadlines with ease:

even without full-automation, progress can be significant with automated machines. With increased production, deadlines can be met quickly. Even sudden orders by customers will be fulfilled.

Machines do not need much upkeep

: unlike human operators, machines can run without concern for a comfortable temperature. They also don't need lights and additional pay for working the night shift.



The Right Products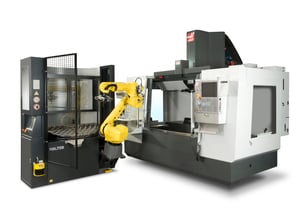 It's not just about running machines overnight. Careful planning and organization are needed to ensure efficiency. Machines must be equipped with proper monitoring and tooling to ensure maximum output. A sound system will prevent crashes and can even substitute worn tools to allow the process to continue.
It's essential to have the right CNC automation products and services. Halter CNC Automation offers a 3-month demo in the US. Our products can help double the production of a machine shop leading to double the profits. Other benefits of using our products include:
Fast set-up time and excellent user experience thanks to HALTER Smart Control

Plug-and-play solutions for every new or existing CNC machine

Local and remote support

Dedicated engineers to handle customized requests
Even without prior knowledge of our systems, our CNC machine automation products are made so that they're easy to control. Take advantage of new technology and help your company grow with the help of Halter.