Nachbur AG -Simple, flexible, versatile
07 March 2023
how a swiss manufacturer of precision parts was won over by the HALTER Loadassistant


Production space and production hours are notoriously expensive in Switzerland. Entrepreneurs like Daniel Graf of Nachbur AG therefore know all too well that economically viable precision production can only be achieved with highly qualified employees in combination with a high level of automation. Even existing automation solutions are put to the test.
"With our 105 employees, we specialize in the production of highly precise turned and milled parts and assemblies. Our production is characterized by a high added value because our production spectrum also includes the grinding and cleaning of parts and the application of laser markings. Worldwide, many different industries, such as medical technology, measurement and control technology, the hydraulic and electronics industry and optics, rely on our high quality," says Daniel Graf, the Managing Director of Nachbur AG and co-owner with his sister Gabriela.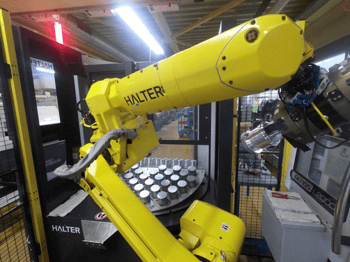 Precision manufacturing with a wide range of material
The company, located in Holderbank (Canton Solothurn), processes all machinable metals, such as stainless steel, nickel alloys, titanium, various non-ferrous metals, etc.
Production is mainly done in small and medium-sized series of up to 10,000 pieces.
"In terms of workpiece dimensions, our core competence is in the range from 0.5 mm to 150 mm," explains Daniel Graf, to give an impression of what precision manufacturing can mean. "The smallest holes we can make in stainless steel, for example, have a diameter of only 0.05 mm. In comparison, a human hair is almost twice as thick."
Cross-production automation
In a production area of 6,500 square meters, Nachbur has an equally impressive and advanced machine park, ranging from simple 2-axis lathes to highly complex turning centres with up to 14 axes. The managing director stated: "Currently we have about 60 lathes and milling machines in operation, all of which are automated in some way, either with bar loaders or directly with robots, to name just a few examples. In addition, we recently developed a solution with HALTER CNC Automation with which we can automate the processing of saw blades."
Economical production of 30,000 components per year
The reason for this new investment was a large order for a new product that Nachbur received last year: the production of rotationally symmetrical aluminium parts with a diameter of 90 mm and a height of 100 mm with a target volume of 30,000 pieces per year.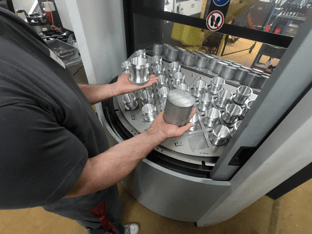 According to Daniel Graf, the production capacities for this order were already ready: "We could have produced the parts with a robot on one of our turning centres. However, such systems are designed for the production of very complex parts and are therefore in principle completely oversized and uneconomical for this kind of order."



Instead, they decided to produce the new parts on a 3-axis lathe. "This existing machine, an Okuma Genos L2000-e, was previously equipped with a bar feeder. However, the bar capacity was too small for the dimensions of the new workpieces, as we had to work with saw blades. Manually loading and unloading the machine would not have been economical either, if only in terms of cost per unit," says Daniel Graf.
Insight into its use in practice was convincing
Therefore, Nachbur began looking for a solution from the well-known suppliers for automatic workpiece handling and prepared a detailed cost-benefit analysis while comparing different systems. "A robot cell from HALTER CNC Automation was also shortlisted. After we were able to see one of these cells in practice, the decision was made for a particular solution."
Specifically, the solution was a Halter LoadAssistant Universal Premium with a robot carrying capacity of 25 kg. This versatile, mobile robot cell for loading and unloading CNC lathes/milling machines covers the entire workpiece range up to 270 mm in diameter or length and is installed as a plug-and-play system in a very short time.
The parts buffer of the HALTER LoadAssistant consists of workpiece-specific holders (grid plates) for rectangular and rotationally symmetrical parts and bar materials.
While the robot at the front loads a machine with new workpieces and removes finished parts, an operator at the rear can remove the produced parts from the buffer and load the cell with loose parts parallel to production.
"A machine is not a machine"
"I was convinced by the simple, intuitive operability of the robot cell and especially by the rotating workpiece buffer, which actually enables continuous, automated production because you can remove finished parts and load the system with new blanks while the machine is running. Many other systems don't have this," says Daniel Graf, who then cited another important argument for his decision: "In addition, Halter offers different variants of the LoadAssistant. Our strategy is 'a machine is not a machine'. Accordingly, when we are choosing a solution, we also want to see options for the future, and Halter's products give us the necessary flexibility."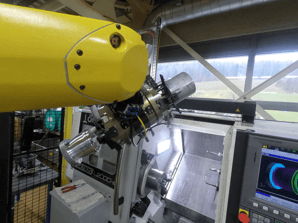 HALTER CNC Automation currently offers its loading robots in Compact, Premium and Big versions, which in turn are divided into the model variants "Universal" (turning-milling), "TurnStacker" (turning) and "MillStacker" (milling). Due to the high degree of standardization of the various loading robots, customers can integrate the solutions very simply and specifically into their production.
Space-saving robot cell for flexible, unmanned production
Nachbur uses a grid plate for a total of 68 workpieces to load and unload the Okuma lathe. Since the machining time per part is about 2.5 minutes, the entire system can produce for more than two hours unattended. "This means that we can produce about 190 workpieces per shift and increase our daily output by about 15 percent. In addition, the machine can now also be used to produce other stock parts from other materials that, for example, cannot be used as bar stock due to material technical reasons. A good example of this are parts made of Inconel 625, a highly corrosion-resistant material that is difficult to machine. With such components, we achieve a productivity increase of up to 30 percent through automatic loading and unloading with the HALTER LoadAssistant," says Daniel Graf, who also emphasized that: "The investment has therefore paid off for us in many respects – especially since, thanks to its compact design, the robot cell is easy to install in the existing production area without taking up more space."